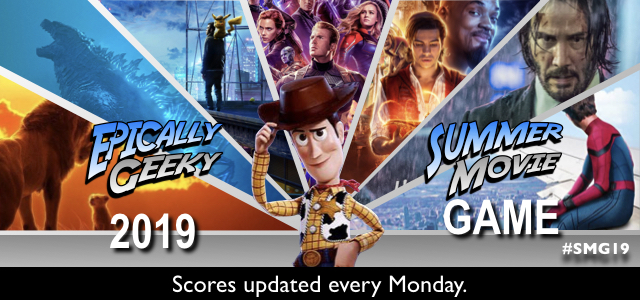 It's almost summer so you know what that means? No, not going to the beach and playing outside (well, maybe some), it's time to grab the popcorn and giant soda and head to the movies for the summer blockbusters. But before you drop some loot on your tickets and concessions, it's also time to enter and play The Summer Movie Game!
We are using the rules established over at TimeTravelReviews.com The only thing we changed was the submission date. So here is a run down of the rules:
Only movies coming out this summer (April 26, 2019 - Labor Day, Sept. 2, 2019) are eligible.

Entries are due by 11:59 PM CDT Friday, April 26, 2019.

Movies will be allowed to accumulate earnings until Sept. 16, 2019, then the winner will be decided.

Compile a list (order counts) of the top 10 grossing movies for the summer + 3 "dark horse" picks. The dark horses are movies you don't think will make the list, but might surprise you.

Points are awarded as follows:

13 points for positions 1st & 10th correct

10 points for positions 2-9 correct

7 points if it is only one spot away

5 points if it is two spots away

3 points if it is anywhere in the Top 10

1 point for each dark horse that makes it into the Top 10

You only get the highest point available, points are not cumulative (you get #10 right, you get 13 pts; not 13 + 3 for also being anywhere on the list)
Resources
2019 Summer Movie Preview - Check out all of the coming movies over at FirstShowing.net.
NOTE: The lists are not 100% complete as it does not include movies with limited releases. Also please be aware that while movie release dates are pretty much set, it is possible for them to change suddenly.